About the Governor's Strike Force
Strike Force Leadership
James Huffines, Chair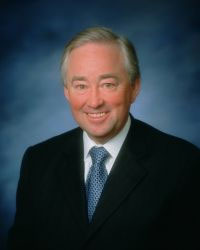 Former President and Chief Operating Officer of PlainsCapital Corporation, retired Chief Operating Officer of Hilltop Holdings, Inc., former Chairman of The University of Texas System Board of Regents, and current Chair of Southwestern Medical Foundation. Huffines has served three governors of Texas: Governor Greg Abbott, Governor Rick Perry, and Governor Bill Clements. He is a former Chair of the Governor's University Research Initiative, and a former member of the Dallas Foundation Board of Governors, the Texas State History Museum Foundation Board of Trustees, and the Dallas Citizens Council Board of Directors. Huffines earned a BBA in finance from UT Austin and attended Southwestern Graduate School of Banking at Southern Methodist University.
---
Special Advisory Council
Business leaders representing the state's regions and industries will provide advice and counsel.
Arcilia Acosta
President & CEO, CARCON Industries & Construction, a full-services construction firm with offices throughout Texas with an emphasis in transportation and aviation; founder & CEO of Southwestern Testing Laboratories (STL Engineers), a geotechnical engineering and construction materials testing firm.
Paul Andrews, Jr.
Founder & CEO, TTI Inc., leading authorized, specialty distributor of interconnect, passive, and electromechanical (IP&E) components, and the distributor of choice for industrial and consumer electronics manufacturers worldwide; over 100 locations in North America, Europe, and Asia.
Mark Bivins
Rancher, partner in Corsino Cattle Company; board member of Harrington Fellows Program at the University of Texas; former Commissioner of Texas Parks and Wildlife, and Vice Chairman of TP&W Foundation; past chairman of U.T. McDonald Observatory Board of Visitors.
Kathy Britton
CEO and Owner, Perry Homes, a Texas homebuilder for over 50 years committed to providing exceptional quality, value, and customer service; created Perry Homes Foundation to support local charities; named one of Houston's 50 Women of Influence.
Brad Brookshire
Chairman & CEO, Brookshire Grocery Co., family-owned grocery business in Texas, Louisiana, and Arkansas; operates more than 180 stores under Brookshire's, Super 1 Foods, FRESH by Brookshire's, and Spring Market banners; named among Forbes Best-in-State employers in Texas.
J. Bruce Bugg, Jr.
Chairman of the Texas Transportation Commission; Chairman, President & CEO of Southwest Bancshares, Inc.; previously Chairman and President of the Texas Economic Development Corporation, and senior advisor to Governor Rick Perry.
Alonzo Cantu
President & CEO of Cantu Construction; serves on University of Houston System Board of Regents; Chairman of the Board, Lone Star National Bank; member, Board of Managers and chairs Finance and Management Committees at Doctors Hospital at Renaissance Health System; majority owner of Vipers Basketball, LLC, and Lone Star FC, LLC.
Bobby Cox
Owner and operator of Bobby Cox Companies, Inc., including Rosas Café & Tortilla Factory, Taco Villa, and Texas Burger; an entrepreneur and independent businessman with investments in real estate, an advertising agency, an aircraft company, cattle ranching, and quarter horses.
Adriana Cruz
Executive Director, Economic Development & Tourism Division, Office of the Governor; previously President of the Greater San Marcos Partnership, and Vice President of Global Corporate Recruitment for the Austin Chamber of Commerce.
Michael Dell
Chairman & CEO of Dell Technologies; an innovator and technology leader providing the essential infrastructure for organizations to build their digital future, transform IT, and protect their most important information. In 1999, he and his wife established the Michael & Susan Dell Foundation to accelerate opportunity for children growing up in urban poverty. Michael is active with the World Economic Forum, the International Business Council, and is a member of the Technology CEO Council and the Business Roundtable.
Scott Dueser
Chairman, President & CEO, First Financial Bank; rising from management trainee in 1976; on boards of Texas Tech Alumni Association, American Bankers Association Foundation, and Texas Tech University Free Market Institute; Chairman of United Way of Abilene Foundation board.
Don Evans
Chairman of the President George W. Bush Foundation, Chairman of Permian Strategic Partnership, and 34th Secretary of the U.S. Department of Commerce; previously served as Chairman of Energy Future Holdings and Chairman of the University of Texas System Board of Regents.
Tilman Fertitta
Chairman & CEO and sole owner of Landry's, Inc, the Golden Nugget Hotel and Casinos, the NBA Houston Rockets; and New York Times best-selling author. Recognized as a world leader in the dining, hospitality, entertainment, gaming industries with 600 restaurants, hotels, amusement parks, and aquariums worldwide. Also serves as Chairman of the Board – University of Houston Board of Regents, and Houston Police Foundation.
Richard Fisher
Senior Advisor, Barclays, and Former President & CEO of Federal Reserve Bank of Dallas; previously Deputy U.S. Trade Representative, Vice-chair of Kissinger McLarty Associates, Managing Partner of Fisher Capital Management, Senior Manager of Brown Brothers Harriman & Co., and served as Assistant to the Secretary of the Treasury under President Carter.
Rick Francis
Chairman of the Board of WestStar Bank Holding Company, Inc., and Chairman & CEO of WestStar Bank; former Chairman Texas Tech University System Board of Regents.
Printice Gary
Founding Partner/Principal & CEO, Carleton Companies, the leading minority-owned general contractor and developer of market-rate and affordable housing across the state of Texas. Mr. Gary is a seasoned investment professional with over 40 years combined career experience in real estate finance, construction, homebuilding, mortgage banking, and investment banking.
Brad Heffington
Owner of Heffington Farms, Inc. and Triple T Irrigation, Inc., agriculture production and irrigation companies specializing in producing Texas cotton; serves as Vice President of High Plains Underground Water Conservation District; past President of Plains Cotton Growers, Inc.
Jeffery D. Hildebrand
Executive Chairman and Founder of Hilcorp Energy Company; serves on boards of Central Houston, Inc., Houston Livestock Show and Rodeo, Cesar Kleberg Wildlife Research Institute, and Houston Police Foundation. Chairman of The University of Texas Investment Management Company, and recently appointed to the Texas Parks and Wildlife Commission.
Nancy Kinder
President & CEO, Kinder Foundation, which focuses on transformational gifts for education, urban green space, and quality of life. The Foundation has been a leading participant in the creation of Discovery Green, Buffalo Bayou Park, and Bayou Greenways 2020. Kinder is integrally involved with the evolution of Memorial Park; President of the Advisory Board of Rice University's Kinder Institute for Urban Research; and an active participant on the board of the Greater Houston Partnership.
Tom Luce
Founder & Chairman of Texas 2036; founded and led numerous nonprofits, including Just for the Kids, the National Math and Science Initiative, and the Meadows Mental Health Policy Institute; career distinguished by appointments to major state and national positions.
Marc McDougal
CEO McDougal Companies; managing realty and construction divisions since their inception; past President of the Lubbock Apartment Association; served on boards of the Texas Apartment Association and West Texas Home Builders Association; Mayor of Lubbock from 2002 – 2006.
Jim "Mattress Mack" McIngvale
Owner, Gallery Furniture; retailing innovator, philanthropist; a tireless powerhouse usually found standing at the front desk of the original store on North Freeway, greeting every customer and overseeing sales activities; life's motto: "Grateful for everything, Entitled to nothing."
Drayton McLane
Chairman, McLane Group; Chair, Texas Economic Development Corporation Board of Directors; dynamic business leader, philanthropist, third-generation grocery wholesaler; success based on commitment to quality, customer service, and uncompromising honesty and integrity.
Elaine Mendoza
Founder, President & CEO of Conceptual MindWorks, Inc.
Balous Miller
Owner of Bill Miller BBQ Restaurants
Carla Moran
Ramar Communications based in Lubbock; President-Elect of the Bob Bullock Texas State History Museum Foundation; founding member of Lubbock Entertainment Performing Arts Association.
Dennis Nixon
CEO & Chairman of International Bank of Commerce. As CEO of IBC Bank since 1975 and as an inductee into the Texas Business Hall of Fame, Nixon is a leading authority on banking, commerce, and trade. As a member of the Texas Business Leadership Council and the U.S./Mexico CEO Dialogue, Nixon played an integral role in the development and passage of the USMCA trade agreement.
David Oliveira
Partner at Roerig, Oliveira & Fisher law firm, where he has practiced for over 30 years; gubernatorial appointee to the Texas Commission on Judicial Selection; member of the University of Texas Chancellor's Council Executive Committee.
Ross Perot, Jr.
Chairman of The Perot Group, which manages the family interests including real estate, oil and gas, and financial investments; Chairman of Hillwood, a Texas-based, leading global real estate development company he founded in 1988; and a Perot Systems Corporation founder
Kevin D. Roberts, Ph.D.
Executive Director Texas Public Policy Foundation; former college president; founder and headmaster of K-12 school; education policy expert and national leader on pro-growth policies.
Robert B. Rowling
Owner and chairman of TRT Holdings, Inc., investments include Omni Hotels & Resorts and Gold's Gym, Inc.; serves on board of the Southwestern Medical Foundation; previously served on the national board of Young Life and The University of Texas System Board of Regents.
Kendra Scott
Founder and CEO of Kendra Scott; a talented designer, passionate philanthropist, and driven entrepreneur, Kendra started her company in Austin in 2002, and has grown the company into a national powerhouse with 108 stores nationwide – 21 in Texas alone.
Robert F. Smith
Founder, Chairman & CEO of Vista Equity Partners, Austin-based global investment firm with equity commitments of over $57 billion and a private equity portfolio of more 60 enterprise software, data, and technology companies employing over 70,000 employees worldwide; 2019 inductee into the Texas Business Hall of Fame; named as one of Forbes' 100 Greatest Living Business Minds; first African-American to sign the Giving Pledge.
Sam L. Susser
Chairman of BancAffiliated, Inc., of Corpus Christi Athletic Club, of UT Development Board, and of the Governor's University Research Initiative; board member, National Retail Properties; previously grew Susser Holdings Corporation to a $6.7 billion publicly traded Fortune 50
Massey Villarreal
CEO & President of Precision Task Group, Inc., a Hispanic-owned and managed technical systems integration firm providing business solutions to public and private sector firms; named one of the most influential Hispanics in the U.S.; serves on board of the Greater Houston Partnership.
Kirk Watson
Named founding Dean of the University of Houston Hobby School of Public Affairs; State Senator representing Austin, elected President Pro Tempore in 2019; previously Mayor of Austin, and served under Governor Ann Richards.
Marc Watts
President, The Friedkin Group, with business interests including Gulf States Toyota, Inc., a wholesale distributor of Toyota vehicles and products, and various private investments; previously Vice Chairman and Managing Partner-Houston of the law firm of Locke Lord LLP.
Graham Weston
A native Texan and former Chairman of Rackspace Hosting Inc.; helped found Geekdom and The 80/20 Foundation; passionate about entrepreneurship, specifically how cities can build and maintain fertile environments for young entrepreneurs to learn skills to create next innovation wave.
Sanjiv Yajnik
President of the Financial Services Division at Capital One; Member of the Capital One Executive Committee; Chairman of the Collin County Business Alliance (CCBA); Chairman of the Dallas Symphony Association; Treasurer and Board Member of the National Academy Foundation (NAF); Board Member of CBRE; Previous Chairman of the Texas Economic Development Corporation.